So I have been brainstorming a gift for new baby boy Curtin. Mom and Dad went to Notre Dame with my husband, who suggested making a Notre Dame letterman jacket, like the Steelers Jacket I made for baby Kay+Rob last month.
"Oh! That's actually a great idea!", I said to him this evening. "Well," he replied a little sheepishly, "that's what I really want for our baby eventually." Awww!
Here are pictures are of the modern letterman jackets at Notre Dame.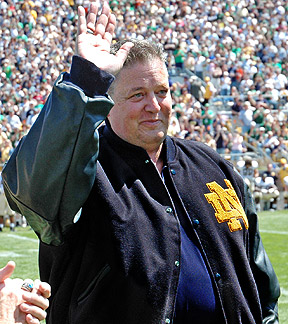 The blue arms, however, make it look more like a regular windbreaker than a sports jacket. The old-fashioned jackets, like these:
are more iconic.
Luckily, I already have a great "gold" yellow color in my stash, and
Vanna's Choice
makes a great Navy color.
I think I'll put the monogram on the back the way I did for the Steelers Jacket. If there is room on the front, I might add a clover or a little felted leprechaun.